Circa news not updating
With this release sharing is easier, faster, and more powerful than ever before. Using our new marquee feature, we'll be able to highlight any number of stories.
But thankfully we've come to our senses and made it much, much better and dead simple. That's why we've spent the last few weeks completely overhauling our sharing interface. Share via Circa and you'll give your friends a delightfully brief, but comprehensive view into the biggest stories.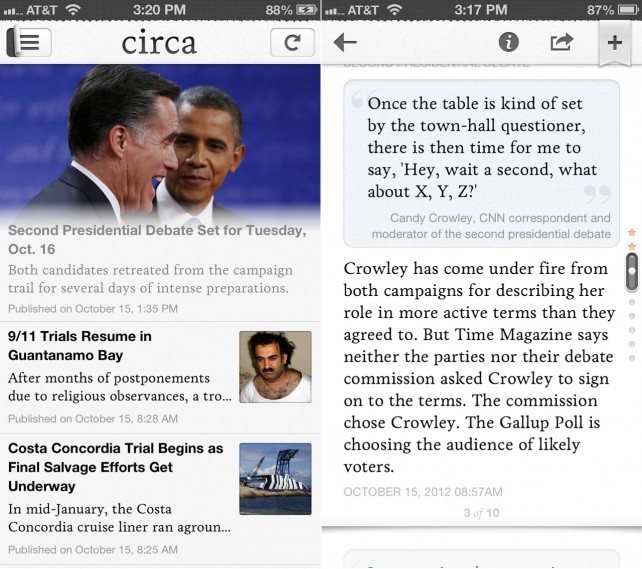 Now whenever the app is opened, you'll see a banner to let you know that it's checking for updates. You can also jump directly to any section from a hidden menu that shows up when you swipe from the far left edge of your screen. The app now takes up half as much space as before, and we've reduced its cache considerably.
Getting started What I like about Circa is that you don't need an account to use the app. Circa does not yet have options for other languages.
To make it easier to find and read the news that matters. Sometimes on big news days or weeks we would have loved to have highlighted multiple stories. If you receive updates to a story, they're just at the top of the story now, simple as that.
We've also overhauled our social sharing interface. What a silly, annoying bug. In the meantime, we've added quite a few labels that should make accessible naviation easier.
Instead of needing to use arrow buttons to see which updates are new, we've clearly marked them for you. The stories you read are grayed out in the news sections, so you can tell at a glance what you've already read. We've found it's at least x faster than the previous versions. The app is full of small touches that show how thoughtfully it was built. At the bottom of each storyline, you'll see related stories and citations, which is helpful if you want to read a full news story or do your own fact-checking.